Click on a header for main topic, or hover and click on one of the drop-down topics.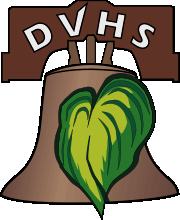 DELAWARE VALLEY
HOSTA SOCIETY
October meeting, with election of officers, TBD.
View our latest Zoom presentation, from Karl Gercens.
The DVHS provides printed and mailed newsletters to its members. There are four issues (with color pages) and a winter bulletin each year, coming out a few weeks in advance of each meeting. Join today to get your subscription started! Issues will be shared and archived here at the end of each season after publication. (Just added: 2020 files. Join today for 2021!)
Our Latest (free) Newsletter
Click the image to download the PDF of our 2021 Spring Newsletter. (Approx. 1.5 MB)
For sale plants held over from last year, see Issue 29.1 below.
Newsletters: Stay informed
Newsletter Archives
DVHS Brochure (2019)
The DVHS brochure is formatted to print on legal paper (11x14) and folded. That means the pages here are out of order (4,1,2,3). We'll print a bunch so you can share them with friends or with your local garden centers.
Use the Contact page if you would like an archived Newsletter issue not listed here.