Click on a header for main topic, or hover and click on one of the drop-down topics.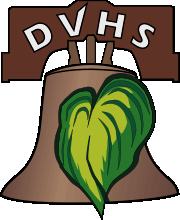 DELAWARE VALLEY
HOSTA SOCIETY
Fortieth anniversary banquet: October 22!
View the historical slide show here.
Stay tuned for 2023 activities.
Celebrating 40 years in 2022!
As noted on the About Us page, DVHS holds 4-5 meetings each year. Some are in gardens, with tours, plant auctions, and pot-luck suppers. Others are in libraries or other public spaces, where we can chat and enjoy a presentation by invited guest speakers or by our own local experts.
In addition to our meetings, the DVHS is active in preparing and maintaining public display gardens at local arboretums, and in producing AHS-accredited hosta shows for friendly competition and informing our members and the public about hostas. Please click on the links below for more information.
Calendar and Activities. Come to a DVHS event!
Here is our calendar for 2022.
Our Newsletters page lets you download more information.
And here are some other nearby local or national hosta activities.
A members-only sale (Bob Solberg, vendor) and garden visit at the home of Roberta and Dave Chopko in Boonton, NJ.
We're grateful to our neighboring hosta society for setting this up. Alan Russell is always glad to see us come by and shop his special collection at wholesale prices! 8:00 - 1:00
American Hosta Society Convention
Minneapolis, Minnesota
Conventions are, we hope, back to normal! Visit the convention website for information about how you can visit beautiful gardens around the Twin Cities.
Conny and Rebecca in the bamboo grove at WynEden, August 2019.