Click on a header for main topic, or hover and click on one of the drop-down topics.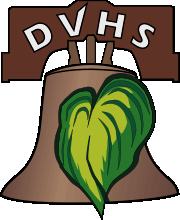 DELAWARE VALLEY
HOSTA SOCIETY
October meeting, with election of officers, TBD.
View our latest Zoom presentation, from Karl Gercens.
As noted on the About Us page, DVHS holds 4-5 meetings each year. Some are in gardens, with tours, plant auctions, and pot-luck suppers. Others are in libraries or other public spaces, where we can chat and enjoy a presentation by invited guest speakers or by our own local experts.
In addition to our meetings, the DVHS is active in preparing and maintaining public display gardens at local arboretums, and in producing AHS-accredited hosta shows for friendly competition and informing our members and the public about hostas. Please click on the links below for more information.
Calendar and Activities. Come to a DVHS event!
Here is our calendar for 2021.
Our Newsletters page lets you download more information.
And here are some other nearby local or national hosta activities.
Mid-winter Zoom meeting, 10:30 a.m.
June Colley: Hostas in Japan
This beautiful slide presentation lets us join June on several trips to Japan, where she photographs hostas in the wild and in collectors' gardens.
Local garden photographer Karl Gercens brings us an evening lecture on getting the best from your cameras. View the recording of the presentation at this page, available until July 31.
Saturday, June 5 (new date)
Summer garden tour, plant sale, & auction
Conny Parsons: Art in the Garden (Holly Lane)
Weather permitting, Conny and Jim's glorious garden will be graced with some of Conny's latest paintings. We'll sell plants we've been holding since last spring, and auction off whatever you bring! (see Newsletter issue 29.1.) Boxed lunches on you, beverages on us.
Steve and Kathy Miller invite us to a small-scale garden party near Kennett Square. Kathy promises an exciting game of Hosta Hopscotch! Reservations are required for members and non-members; use the Contact form to let us know you plan to attend.
Meeting, election, and photography show
Stay tuned for details, but since we can't have a Hosta Show this year, we want you to contribute photographs for a gentle competition, with some fun categories. Cameras ready!
Tri-State Hosta meeting and sale
A members-only sale at the Przewozny Family Farm in Clifton, NJ.
American Hosta Society

Virtual Convention
Things are different in 2021. Visit the convention website for information about how you can visit beautiful gardens around Kalamazoo, Michigan, from the comfort of your home.
Conny and Rebecca in the bamboo grove at WynEden, August 2019.