Click on a header for main topic, or hover and click on one of the drop-down topics.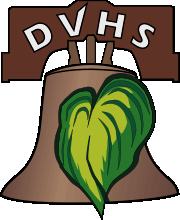 DELAWARE VALLEY
HOSTA SOCIETY
Celebrating hostas since 1982!
As noted on the About Us page, DVHS holds 4-5 meetings each year. Some are in gardens, with tours, plant auctions, and pot-luck suppers. Others are in libraries or other public spaces, where we can chat and enjoy a presentation by invited guest speakers or by our own local experts.
In addition to our meetings, the DVHS is active in preparing and maintaining public display gardens at local arboretums, and in producing AHS-accredited hosta shows for friendly competition and informing our members and the public about hostas. Please click on the links below for more information.
Calendar and Activities. Come to a DVHS event!
Here is our calendar for 2023.
Our Newsletters page lets you download more information.
Guest speaker Don Rawson, of the famed Hosta Lists website, brings us "What's New in the World of Hostas?"
The Hostatality (drinks, boxed lunches/snacks, and hosta chitchat) starts at noon, with the speaker on at 1:00.
Garden tour & auction
Carole Verhake garden, Berwyn, PA
This is a NEW garden to DVHS visitors, which we hope you will enjoy. Details HERE.
Start planning now for the auction: what plants you can share, and what plants you need!
Garden tour and auction
Anastasia and Clinton Cleaver house
Rydal, PA
Clinton and Anastasia are relatively new DVHS members who have caught the hosta bug. They are placing more focus on their woodland garden, after devoting their efforts to restoration of their charming Victorian home.
Details HERE
Another Garden tour!
Andy Schenck garden, Berwyn, PA
Andy is a landscape professional who manages the Sam Brown's Wholesale Nursery in Malvern. His "Look Again Garden" (yes, that's its name) contains treasures galore, as in his professional life he seeks the best stuff for his clients (like Chanticleer Gardens). Details HERE
Titans and Gods:
The Olympians of the Hosta World
Speaker: David Teager DVHS Past President and Fearless Leader
And here are some other nearby local or national hosta activities.
Conny and Rebecca in the bamboo grove at WynEden, August 2019.