Click on a header for main topic, or hover and click on one of the drop-down topics.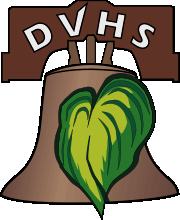 DELAWARE VALLEY
HOSTA SOCIETY
Celebrating hostas since 1982!
Hosta links: Where can I find more?
Hosta Information and Pictures
Hosta Library (pictures of thousands of hostas; also go here for First Look and all sorts of information on hostas, especially pests and diseases)
AHS Hosta Registry (a.k.a. the Hosta Treasury, which has some information about vendors)
Hugo Philips's Hosta Database (with information on over 13,000 hosta names)
Hosta Lists from Don Rawson, grouping hostas by characteristics or by name themes
The PlantsGalore Hosta Helper contains oodles of information about hostas and hosta people.
​GardenWeb (Houzz) Hosta Forum
Hallson Gardens page on Hosta diseases and culture (a great one-page summary)
Hallson Gardens Forums Hallson's may be closed, but the forums live on (quietly)
Hostas for Warm Climates a listicle (updated in 2022) from noted plantsman Tony Avent
and this similar article for coastal Louisiana!
Hosta Societies (info may not be current)
American Hosta Society Facebook Group (not officially part of the AHS, but popular)
Tri-State Hosta Society (NY, NJ, CT)
Susquehanna Hosta Society (Facebook group)
Daffodil and Hosta Society of Western Pennsylvania (Facebook group)
Upstate New York Hosta Society
Hosta Society of Western New York
Potomac Hosta Club (last update 2020)
North Carolina Hosta Society (no active link available)
Middle Tennessee Hosta Society
Greater Cincinnati Daylily - Hosta Society
Miami Valley (Ohio) Hosta Society
North Coast (Ohio) Hosta Society
Central Illinois Hosta Society
Northern Illinois Hosta Society
Mississippi Valley Hosta Society (Iowa/Illinois) (last update 2015)
Harshbarger Hosta Society (Iowa)
Shades of Green Hosta Society (SE Minnesota)
Quebec Hosta and Hemerocallis Society (in French)
For information about societies that do not have web sites, visit the American Hosta Society website.
Hosta Vendors on-line
Here is a brief list or top-quality suppliers; use a search engine to get the nursery website. No endorsement is implied. If you would like to be listed here, please contact the Webmaster.
Plant Delights Nursery (North Carolina)
​Green Hill Farms (North Carolina)
Hostas Direct (who also represent IDeal Garden Markers) (Minnesota)
In the Country Garden and Gifts (Iowa)
Land of the Giants Hosta Farm (Minnesota)
New Hampshire Hostas
Uniquely Hostas (Wisconsin)
O'Brien Nurserymen (Connecticut)
​
There is also a popular Facebook group called Hosta Buyers Guide to connect buyers and sellers.
We hope to develop a list of local retail locations which feature quality hostas.
Definitely check out Russell Gardens Wholesale. Alan Russell is a DVHS member who will sell retail to our members, at wholesale prices!