Click on a header for main topic, or hover and click on one of the drop-down topics.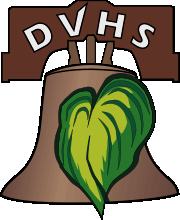 DELAWARE VALLEY
HOSTA SOCIETY
Celebrating hostas since 1982!
Hosta lingo: What did he say?
Hosta growers sometimes use some peculiar words (or use words in peculiar ways) to describe their peculiar passions. Here are some you might come across.
Physiology
Descriptors
Hosta Health
Mutations and hybrids: where new hostas come from
Abbreviations
For the much longer AHS dictionary of terms, click HERE.
A streaked hosta for breeding
A hosta with streaks from nematode feeding
'Parky's Prize' showing edema in spring
Too much sun for a blue hosta.