Click on a header for main topic, or hover and click on one of the drop-down topics.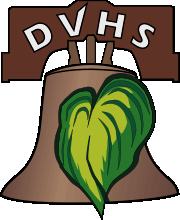 DELAWARE VALLEY
HOSTA SOCIETY
Celebrating hostas since 1982!
Hostas:
America's favorite perennial.
From six-foot monsters to teacup treasures, in colors plain and fancy.
Shade-tolerant, moisture-loving, and—
yes—delicious (to a deer or a slug).
But most of all: beautiful.
Join the Delaware Valley Hosta Society to learn more about growing these tough, versatile, and above all, beautiful plants.
Visit private gardens, share plants at our popular auctions, and compete in hosta shows. You'll learn why hostas are so often called..."the Friendship Plant."
Hosta 'Arctic Blast'
Icy blue leaves have dramatic springtime impact.
Spring 2023 presentation
Spring 2023 presentation by Don Rawson
H. 'Manzo' and friends
A garden in miniature featuring the smallest hostas.
Hosta 'Arctic Blast'
Icy blue leaves have dramatic springtime impact.
Quick Click

to select from a rotating set of our favorite topics.
Learn where you can learn more. Any we should add?
Phifty in Philly — Convention Memories
The Delaware Valley Hosta Society was pleased to host the 2018 Convention, marking the 50th anniversary of both the founding of the AHS and its first convention, which took place near Philadelphia, America's Garden Capital. Click the logo for the convention website archive.
​
You can view a slideshow of memories: photos submitted by attendees. Movies will play in a browser window, or you can download the files for later viewing.
​
Powerpoint versions are smaller read-only files (but only if you have
Powerpoint); for best display, watch or download the large movie files
(with ambient background music). Enjoy!
​
Movie at desktop resolution. (1.5 GB)
Movie at full resolution. (2.6 GB)
​
And finally, the group shot taken at Longwood Gardens is here.