Click on a header for main topic, or hover and click on one of the drop-down topics.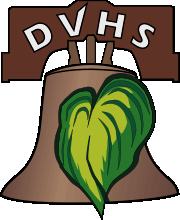 DELAWARE VALLEY
HOSTA SOCIETY
Celebrating hostas since 1982!
June 13, 2020, 9 a.m.–1 p.m.
Garden visits at Talley Crest and Teagate
Recognizing that we needed to cancel our spring meeting and postpone our hosta show until next year, the DVHS board wanted to offer you something to ease the pain of not getting some hosta immersion time.
DETAILS:
Talleycrest: 106 Hoiland Drive, Wilmington, DE.
Park along the street.
Teagate: 1411 Deer Meadow Lane, Garnet Valley, PA 19060. Park on the street, and walk down the long driveway to the house in back (left).
​
Use the Contact form if you need more information.
Due to the current pandemic, we respectfully inform you of the following.
We ask that those with last names starting A–K first visit Talleycrest, and those with last names starting L–Z first visit Teagate (with allowances for those of you who carpool, of course). The gardens are about 15 minutes apart. This will ensure that we don't end up with too many people in one garden at a time. You may stay as long as you wish at each, but we also ask you to respect the end time for the day's visits.

You must bring a mask, and we insist that you wear it if you are chatting with other people who are not in your personal group. Respect the current "social distancing" guidelines. This will be especially necessary at the more compact Romenesko garden. It will be best to just leave your mask on; we will be wearing ours. Rest assured that we will be smiling as we share our gardens with you.

No refreshments will be provided, other than perhaps individual water bottles. If you want to have lunch at Teagate, there are some tables, but we will not be sanitizing them between users. Teagate is near the Booths Corner Farmers Market, which has food vendors (and restroom facilities). We don't yet know if on-site consumption will be allowed there, but you can do take-out.

This is a garden visit only. No auction nor plant sale is planned.

For those of you who need to pay your dues, we will have a station at Teagate where you can drop in a check, or complete your dues paperwork to include with cash. $10/household is not much to ask!

If you are not a member, or wish to invite a nonmember, please use the contact form to RSVP. We hope you understand our need to limit the number of visitors.

Dress for the weather. Teagate can be very sunny if you visit the meadow, but can also be squishy if it has rained recently.
The long border at Talley Crest
The Serviceberry berm at Teagate