Click on a header for main topic, or hover and click on one of the drop-down topics.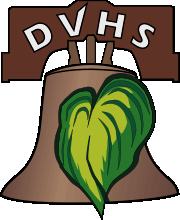 DELAWARE VALLEY
HOSTA SOCIETY
October meeting, with election of officers, TBD.
View our latest Zoom presentation, from Karl Gercens.
July 11, 2021, 1:30–3:30 p.m.
Garden party on Mimosa Circle
Kathy and Steve Miller, hosts
DVHS returns to its regular programming of garden visits, with a few changes (temporary, we hope).
​
This meeting is a scaled-down garden party appropriate for a scaled-down garden on a cul-de-sac not too far from Longwood Gardens.
​
We'll have light refreshments, games (with hosta prizes) and lively conversations as we enjoy the gem of the garden that Kathy and Steve have created in this charming neighborhood. With limited space, Kathy has selected only the best cultivars for inclusion. ('Ice Follies' at right made the cut.)
​
Will there be fun hats? Hawaiian shirts? Only if you wear one!
Use Google Maps or your favorite GPS navigator to get directions to:
Mimosa Circle (you'll see which house)
Kennett Square, PA
​
Park on the street before it reaches the cul-de-sac, but do not park on the central circle at the end of the street.