Click on a header for main topic, or hover and click on one of the drop-down topics.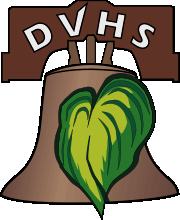 DELAWARE VALLEY
HOSTA SOCIETY
Celebrating hostas since 1982!
Saturday, April 8 from 12:00 to 3:00
Spring Meeting with Guest Speaker
Don Rawson
582 Upper Gulph Rd
Strafford, PA 19087
Don is a well-known hostaphile and originator of more than a few hostas, including 'Rhino Hide' and 'Gabriel's Wing' (a sport of 'Empress Wu').
​
With his many connections in the hosta world—and living in Michigan not far from Walter's Gardens—Don knows his way around new hostas, and brings us his talk:
"What's New in the World of Hostas?"
​
The gathering begins at noon (come earlier ONLY if you want to help set up) with snacks or your own bagged lunches, with the presentation starting at 1:00. We'll also let you know about upcoming shopportunities for buying your favorite plant!
Hosta 'Gabriel's Wing' at Teagate