Click on a header for main topic, or hover and click on one of the drop-down topics.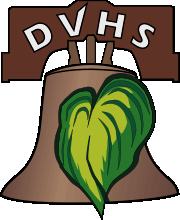 DELAWARE VALLEY
HOSTA SOCIETY
Celebrating 40 years in 2022!
April 23, 2022, 1:00–3:30 p.m.


Spring presentation and Plant Sale
Our Guest Speaker will be Mary Tipping, Curator and Plant Recorder of the Scott Arboretum:
Ferns in the Shade Garden
​The meeting begins at 1:00. You may bring your lunch if you wish. We will provide beverages.
Come at 12:00 only if you will help set up.
After announcements and other business, Mary's presentation will begin at 1:30.
After the presentation, at about 2:30, we will hold our plant sale for members as usual, purchasing in groups by numbered tickets.
You may download the list of plants for sale here.
Prices are yet to be determined, but will be in the $12–16 range. These are nice nursery-sized plants. Payment by cash or check. Bring a box or other tote to help take home your treasures. And please help us clean up after. Thanks!
We request that you bring a mask to guard against COVID. Please follow safety and social distancing instructions given at the meeting, as your leadership evaluates the situation closer to the meeting date.
Use Google Maps or your favorite GPS navigator to get directions to:
500 College Ave, Swarthmore, PA 19081
​
Parking on the campus is clearly marked, but can be a bit difficult. It is best to park down the hill from the Wister Center, before you reach the main campus.